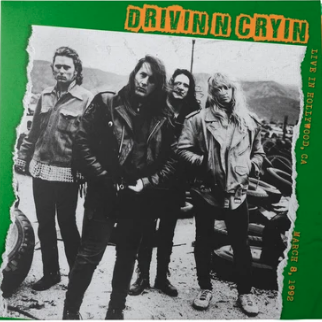 Sample Music
Drivin N Cryin
---
Celebrating their 35th Anniversary together, Atlanta-based folk rock act, Drivin N Cryin, have spent most of their career on tour. In October 1985 Drivin N Cryin played their first show at Atlanta's famed 688 Club. The band quickly gained attention for their blistering live shows, and amassed a rabid fanbase in the fertile soil of the late-1980s Southeast music scene.
Now, 35 years later, and after releasing four full length albums on Island Records and one on Geffen Records, founding members Kevn Kinney and Tim Nielsen find themselves enjoying a milestone anniversary for the band, having survived the pressures of fame, a shifting musical landscape, multiple lineup changes, and miles of back roads and highways to arrive here.
After a gold record, 9 full-length albums, and a handful of EPs to their credit, the band still refuses to rest. In 2012, a documentary about the band, entitled Scarred but Smarter: Life n Times of Drivin' N' Cryin', was produced.
In 2015, a collection of 10 choice cuts from the band's 4-EP "Songs" series, entitled Best of Songs, was released on Nashville's Plowboy Records. Additionally, the band was inducted into the Georgia Music Hall of Fame the same year. The following year, Drivin N Cryin released a vinyl-only album, entitled Archives Vol One, with a collection of basement recordings from the years 1988 to 1990.
With Dave V. Johnson on drums, and the band's newest member, Laur Joamets, (originally Sturgill Simpson) added to the lineup, Drivin N Cryin continues to tour the U.S. to great acclaim. Island Records re-released their highly recognized Mystery Road album through Universal Music Group (2017) & Darius Rucker cut Straight to Hell on his new album, When Was the Last Time, released October 2017 with guest vocal appearances by Luke Bryan, Charles Kelley, and Jason Aldean.
Mystery Road was named one of "The 50 Best Southern Rock Albums of All Time" by Paste Magazine that year as well. In 2018, New West Records re-released their self-titled 1997 album with a new name, Too Late To Turn Back Now!. In addition, the band recently celebrated the release of their 9th studio album, 'Live the Love Beautiful'. Produced by Nashville's, and former band member, Aaron Lee Tasjan, the album was released on Drivin N Cryin Records to much praise.
A quote from the band's lead singer, Kevn Kinney, gives a little insight into what Drivin N Cryin is all about: "We are a band that's like your record collection." Drawing influence from a wide array of musical elements, Drivin N Cryin has developed a unique sound over the years. Their name derives from the eclectic nature of this sound: a little drivin' rock n roll and a little country twang. Comfortable with their past and confident in their future, the band has an arsenal of songs, a full tank of gas, and no plans of stopping any time soon.
Sample Music
Sweet Tea Trio
---
Sweet Tea Trio is an all female harmony group hailing from the deep south. They've opened up for legendary acts of all genres including Bon Jovi and Alabama. The three are signed with Vector Management & Lost Highway Touring; and are managed by singer-songwriter, rapper and producer, Kid Rock. All meeting through a mutual vocal coach in Alabama: Kate Falcon, from Southside, Victoria Camp, from Tuscaloosa, & Charity Bowden from Hope Hull are the three ladies who make up Sweet Tea Trio. Together, their music has no limit. Each growing up with different influences, listening to bands like Journey and classic country legends like Loretta Lynn, the three keep their lyrics honest and their music full of roots and authenticity. They are currently recording a studio album, produced by Kid Rock and are continuing to write for future projects. Performing all over the country in venues like arenas, theaters, and outdoor music festivals, the three have a love and passion for traveling together and meeting their fans. Kate, Victoria, and Charity take great pride in writing their own music and connecting with fans through their lyrics. Together, the three encompass what it means to be classy southern women with a love for what they do. Sweet Tea Trio is bringing a new "old school country with a rhinestone flair" to Nashville. Robert Ritchie/Kid Rock explains, "These young ladies are some of the most talented, kind hearted and hard working singers and players I have ever met. At their young ages they are already becoming fast scholars of the road and writing songs. In my opinion they pick up where the Dixie Chicks and Pistol Annies meet. They are 100% country and I look forward to sharing my 30 years in this business to get them an honest shot at the big time."
Sweet Tea Trio has always believed in the power of their fans. They are leading examples of what it looks like to follow your heart and what inspires you. Fans and promoters not only love the music, but always have a complimentary word to say about the amazing energy and enthusiasm that the three bring to the stage. Kate Falcon, Victoria Camp, and Charity Bowden are three women who represent what hard work, perseverance, and passion look like. Together, they are Sweet Tea Trio.
Social Folk
Social Folk is a band made up of veteran musicians from the North Georgia area. Formed during the 2020 pandemic, the group consists of friends that have known each other for 20+ years. With four songwriters in the band, there is no shortage of material to pick through and their influences are varied and expansive. They plan to release their first EP "Feral" this summer, with regional touring to follow.